Hello my friend,
Yesterday I've read interesting article about human productivity. It provides overview of what you can expect from your team members in terms of performance, if they have clear understanding what to do. But first of all you need clearly define, who is responsible for certain work package, in order to avoid ambiguity and therefore loss of productivity.
RACI model
RACI is abbreviation from 4 words: Responsible, Accountable, Consulted and Informed. Each of these words describes unambiguous relationship, which certain team member (or certain team) has to the certain work that must be done (what we call work package). It is worth mentioning that each project member (person or project team) may has different roles regarding different work packages. Let's review the each role:
Responsible person (or team) has full responsibility for the success of the work execution. We can say that the project manager is responsible for the success of the project, technical coordinator is responsible for the success of technical solution's delivery and server team is responsible for on-time installation and configuration of the servers. You see that we have different levels of responsibilities, and it's quite okay as we have different level of project details for different purposes.
Accountable person sets the task to the responsible and approve its completeness upon fulfillment. Project sponsor is accountable for setting task to project manager and approves major deliverables and transition to the next project's stage. Project manager is accountable for setting tasks for project team and approves them, when they are properly done.
Consulted person or team is usually source of information for work/activities. On the low level consulted are subject matter experts (SME) or other teams, who provide useful input for work to be done in appropriate way. From overall prospective consulted is client, who has business need for the project to be done.
Informed person or team gets ready deliverables from responsible, when they are approved by accountable. On the low level it's the person/team, who performances the next working package that is dependent on previous one. On the top level informed is user or consumer of the project results (deliverables).
Ok, now we have an understanding what each role means. What's about their interdependence? Let's take a look at the picture bellows:

This basic diagram shows informational flows in each moment of the execution for each activity. Let's see how it's used in the project management.
RACI isn't project management specific term. It's widely used in ITIL and overall in management.
Where is RACI model used?
There are several approaches, how to structure the organizational chart and define areas of responsibility for everyone in the project. In PMBOK (paragraph 9.1.2.1) there are three models mentioned:
hierarchical;
matrix-based chart;
text-oriented.
It depends on the project manager approach and context, which model to use. In my opinion the second one that is matrix-based chart is one of the most useful for executing the project's work packages. Very often this matrix-based chart is based on RACI model and is called RAM (Responsibility Assignment Matrix). There are deferent level of details as we have discussed below. That's why you can have different RAM for major deliverable and for single work packages. Above you can find example of RAM matrix: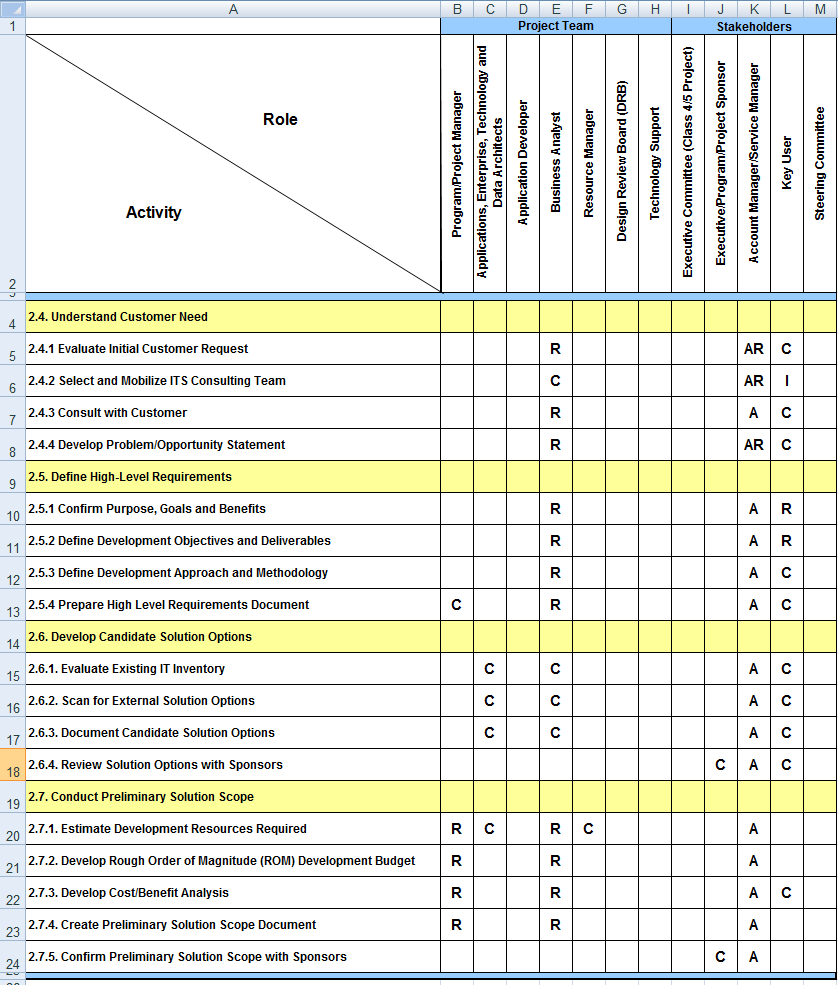 Taking look at this RAM you can easily identify, which relationship has each team member to certain task. It helps to avoid misunderstanding (and therefore loss if efficiency) in performing projects, when project team members have incorrect understanding about their particular role.
Lessons learned
Defining RAM helps a lot in resource leveling, what is the project management activity that makes project schedule realistic. You may very good project schedule, but it appears that some of work packages that are scheduled in parallel have the same responsible in RAM. So it is questionable that this schedule will be fulfilled in time. You have several options, how to solve the issue: reschedule the project, add additional resources or change the responsible (if it's possible). It's quite OK as development of project plan has progressive elaborative nature.
Conclusion
People management is one of the most important part of the project management. In order to have outstanding performance in the project the all the activities and employees' roles in this activities must be unambiguous. One of the manager's mantras says:
if something can be misunderstood, it will be misunderstood.
So you must be clear and precise in all assignments in your project. Take care and good bye!
Support us
BR,
Anton Karneliuk