Hello my friend,
This year I had an incredible opportunity to attend an event, which I wanted to attend for quite a bit back in past, when I was working for service providers (e.g., Vodafone, A1 BLR / Telekom Austria Group). The full name of the event is MPLS SDN and AI World Congress 2022, or simply #mplswc22.




1
2
3
4
5


No part of this blogpost could be reproduced, stored in a 

retrieval system, or transmitted in any form or by any 

means, electronic, mechanical or photocopying, recording, 

or otherwise, for commercial purposes without the 

prior permission of the author.




Thanks
I'm very helpful to my friends and colleagues Pau Nadeu Rabat and Jose Manuel Roman Fernandez Checa for inviting me to take part in the event.
Brief History of the Event
MPLS SDN AI World Congress is one of the biggest events in the networking industry in the Europe. Originally it was called simple MPLS World Congress (hence, the name #mplswc22) and was aiming to bring together the biggest service providers (like the guys I worked for before, Deutsche Telekom, Orange, etc) and vendors of telecom equipment and software (like, Nokia, which I also worked for, Cisco, Juniper, and others). However, the telecommunication industry constantly changes and, with the time, just MPLS was not enough. Software Defined Networking (SDN) in all variety of its forms came to a market:
SDN underlays with Segment Routing (SR) Traffic Engineering (TE) leveraging MPLS (SR-MPLS) or MPLS (SRv6): SR-MPLS-TE and SRv6-TE
SDN overlays, such as SD-WAN and SASE
Associated SDN controllers
As there is a demand, the MPLS World Congress adapted to the needs of the market and start being known as MPLS SDN World Congress with topics moving from the pure network technologies to networking technologies and tooling (SDN is a bit slippery topic, as despite having a clear networking focus, it is not only about networking anymore).
Then, virtualisation came into networking well with a world of network technologies. What system engineers knew under the name of virtual machines (VMs) started being called VNFs (Virtual Network Functions) and the whole approach to virtualisation of the traditional network components became known as NFV (Network Functions Virtualisation). That time I was working myself on a few projects of virtualisation of certain network functions (Route Reflectors and IPSec Gateways), so I remember that time very well. As the trend was new, but impactful to the industry, the even started being called as MPLS + SDN + NFW.
This name retained till the event in 2021. Nowadays, the software focus for network technologies and operations became the major one in a context of more efficient operations, impact-less outages, and ever-further reduction of human errors. As such, to a respond to new challenges, the forum is now named MPLS SD & AI Net World Congress.
Well, names are changing, but under the hood it is still good old MPLS World Congress, which we all (I hope) like and waiting every year. With this, let's take a look into what's discussed in 2022.
Topics
I haven't attended all the talks, but a subset of what was interesting to me within the first two days.
This conference is all about Service Providers. As such, all the topics presented are addressing the challenges Service Providers facing these days or trends happening in Service Providers these days (both are network-related).
Networking Technologies Are Still Relevant
Doing predominantly automation and data centre networking for a few years, it was quite interesting to see that the death of networking technologies is overestimated. On the one hand, I haven't seen much breakthrough technologies which I was not familiar with 3 years ago, when I left Vodafone. On the other hand, it was good to see some real implementation of those technologies including their interoperability between different vendors (more on EANTC below).
The major focus for network technologies was about:
Various flavours of Segment Routing
SDN (underlay and overlay including SD-WAN ad SASE)
Optical networks
SRv6 Adoption and Rollout
SRv6 was one of the most discussed networking topics; hence, I put it here in a separate category as well. All the major telecommunication vendors (including big 4: Nokia, Cisco, Juniper, Huawei) and market challengers (Cienna, NoviFlow, etc) had their talks about some advancements in SRv6 development per corresponding platforms, as well as a number of operators (China Mobile, Rakuten, Bell, Alibaba) shared their experience. SRv6 seems to be actively developed and being gradually adopted by the market; however, the challenges existed on the market few years ago still exist: a lot of Service Providers still have a huge installed base of the legacy networking devices, where support of SRv6 is either not possible or could be very limited. Therefore, the introduction of SRv6 is possible with network upgrades, which had some tractions worldwide over the past few years.
It was a pleasure to see the updates from one of the key figures in Segment Routing world, Clarence Filsfils, whom I have an honour to co-present back in past at Cisco Live.
Present and Future of Automation
Automation continues to be a key trend for the networking domain. In fact, it appears that Service Providers get more understanding how important it is and start using it for many activities.
A lot of talks were done about the future of the network automation, which may lay in the Kubernetes realm. There is quite a way to that for Service Providers, but so far, the direction seems to be set by hyper scalers and picked up by all the major vendors.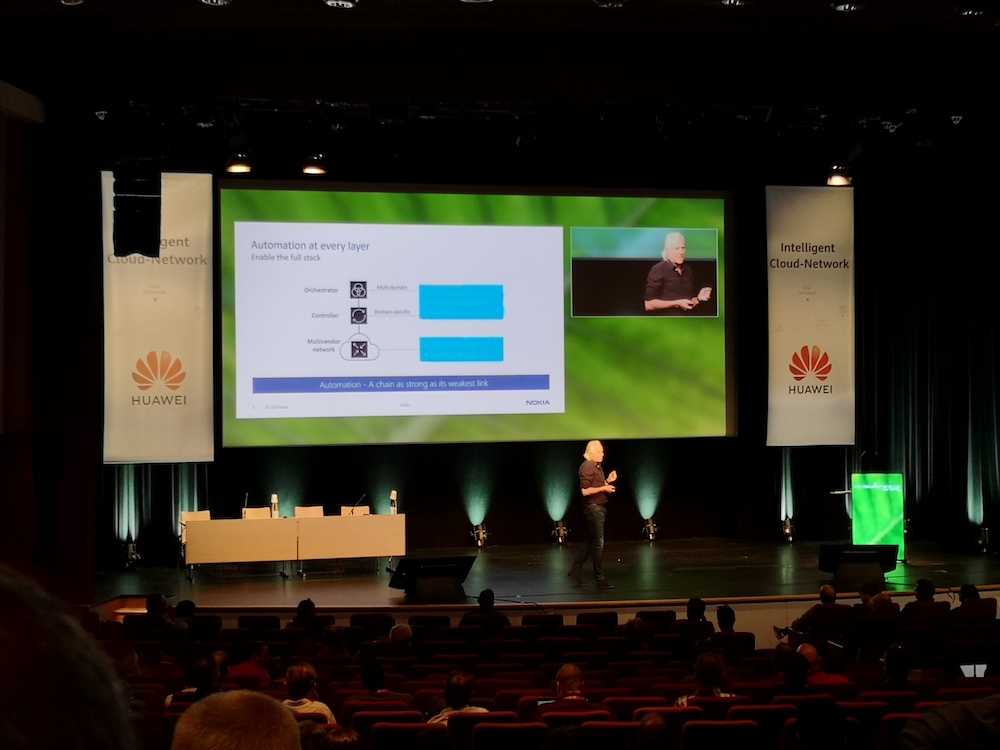 Join our Zero-to-Hero Network Automation Training to create a solid foundation for your company.
The reason for Kubernetes to be a choice for a future of the automation is its reconciliation loop nature. In the cloud world, the reconciliation loop allows to keep the state of the resources (containers, deployments, etc) in-line with the intent. The same story we would like to have in a network, which previously was called closed-loop automation. As such, we, as a networking industry, just found another tool to implement closed-loop automation, which is a hot topic for discussion for at least past 5 years. However, given that Kubernetes is widely adopted in the cloud management and there is a growing number of engineers with this skill on the market, it may be a good opportunity for us to see Kubernetes really used.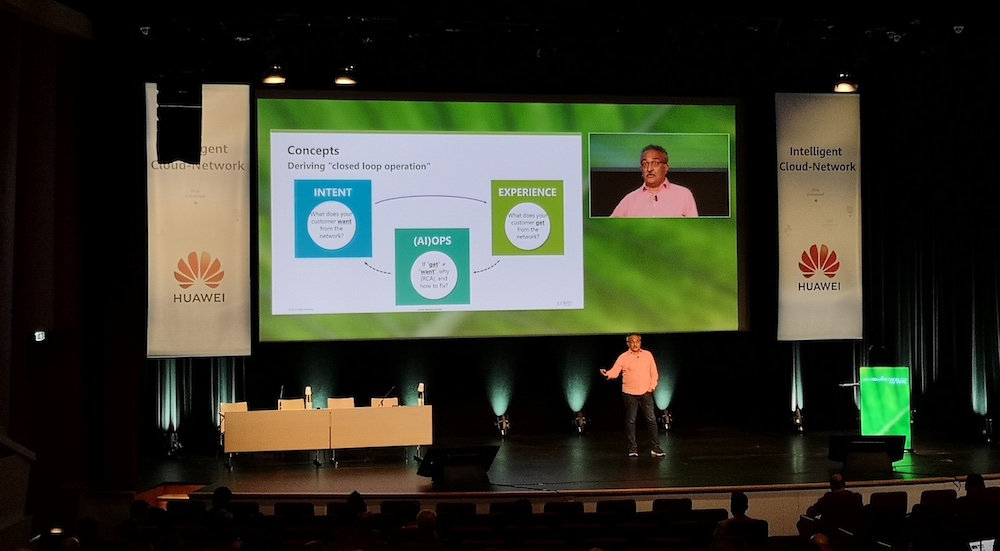 EANTC Network Technologies Interoperability
One of my favourite topics is a network interoperability. In fact, this is one of the key topics for the whole our blog, our training, and professional services. The list of vendors taking part in the EANTC interoperability test was quite a long one:
Cisco
Nokia
Arista
Juniper
Ciena
Huawei
ZTE
Ribbon
Keysight
Spirent
Maybe there were someone else, but I missed them. Sorry about that, dear missed vendor.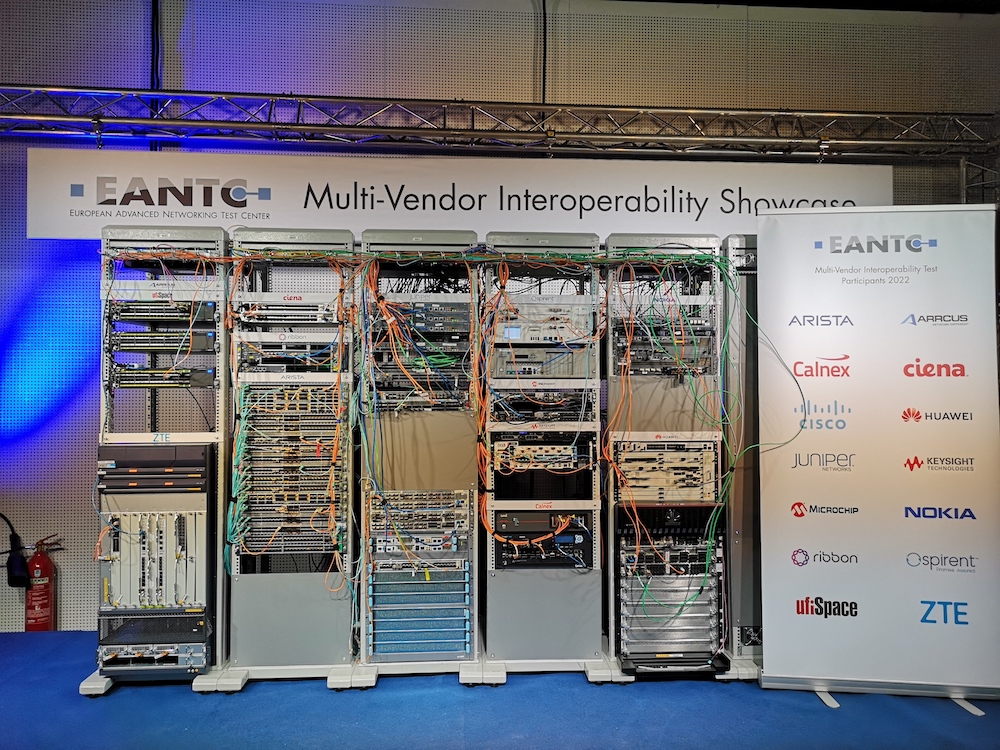 The interoperability test cases were broadly lined up with the talks; however, there were a few things really important for Mobile Service Providers, which were not on talks:
Segment Routing flavours (SR-MPLS, SRv6, SR-TE, FlexAlgo)
EVPN
SDN controllers for Service Providers (PCE/PCC)
Synchronization
Flexible Ethernet
Open RAN
Network Automation
Previously I used to know the report produced by EANTC, but this time, being in present, I had an opportunity to see the show cases of interoperability. It was quite an interesting to see interoperability presented from the stage in format of the demo showing what is working, what not, etc. All the cases were pre-scripter with Python, which proves it is a good tool for automation.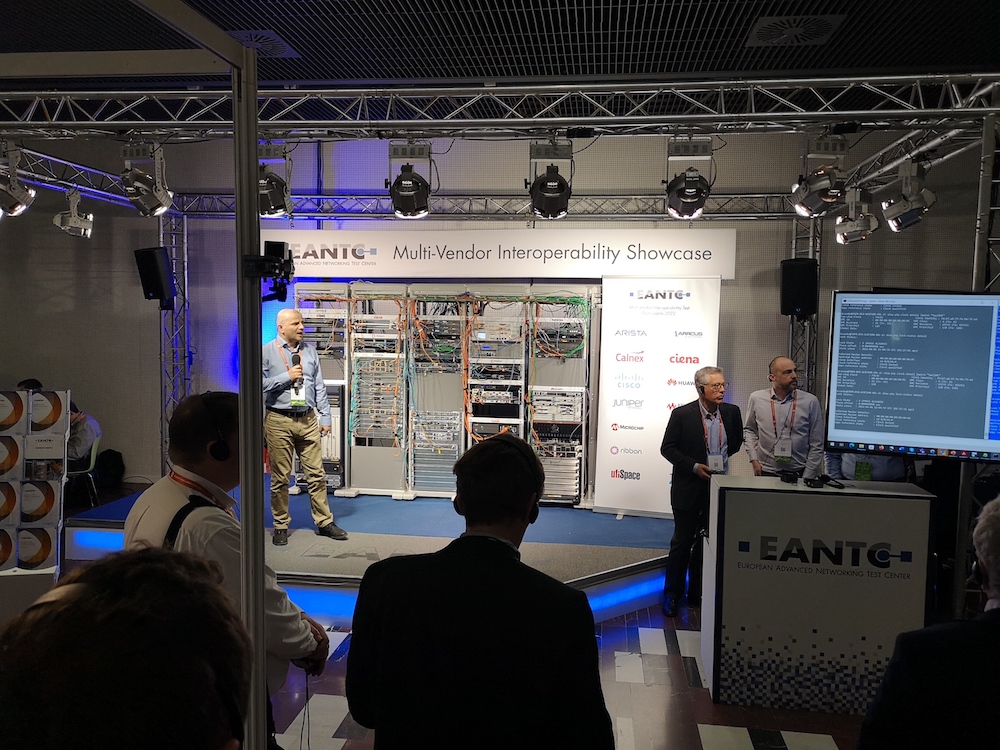 Join our Zero-to-Hero Network Automation Training to learn how to use Python for your use cases.
Raise of AI
A lot of talks were about the Artificial Intelligence (AI) and Machine Learning (ML) for a network operation. The main motivation behind is to avoid outages via preventive maintenance or service reconfiguration. However, the promise is also that it could improve the quality of troubleshooting and reduce its duration, if that happen (it contradicts to an initial promise to avoid outages, but still). At this time, there were not that many demos on this topic, but I hope to see them more in the near future.
Logistics
Traditionally event takes part in Paris, France. But COVID has reshaped our live quite significantly. Therefore, MPLS World Congress now is available in a hybrid format, meaning it is possible to take part:
as live presence on-site
via video conference (in fact, listening to streaming) on-line
Taking part remotely means that it is possible to listen to talks conveyed by the presenters from agenda.
Despite such a format lack the in-person communication, it is an amazing opportunity to learn the cutting-edge technologies and approaches from the industry leaders. I chatted to some my ex-colleagues, whom I was hoping to meet during the meeting, and they told me that there is still an official travel ban in many companies, what made it impossible for them to visit the event. Therefore, I truly believe that such hybrid format is something, that will stay with us for a long period of time, as it beneficial both for organisers due to higher potential audience and for attendees, as it lowers entry criteria to attend the event (no travelling costs, no visa costs, no loss of time due to travelling).
The live format is very useful if you want to discuss in-depth certain solutions with vendors representatives or if you want to sell your services or goods (provided they are relevant for telecommunication industry) to service providers. It also provides a good networking opportunity to link up with colleagues from the telecommunication industry.
This year I had an opportunity to take part via live on-site presence. It was quite an interesting experience. Moreover, it was first huge event I have visited since the beginning of the COVID (presentation at UKNOF was the previous one).
Networking
Having professional network is a key for any industry, and the telecommunication industry is not an exclusion. MPLS World Congress gives a significant amount of opportunities to meet new people starting from post-talks Q&A through demos on booths and vendor meetings to coffee breaks and cocktail events.
Everyone is quite approachable. I had a pleasure to have a long conversation with Wim Henderickx about his and Nokia's view on an automation of networks, people and processes now and in future. Wim is an outstanding communicator and I'm always picking up some new ideas talking to him.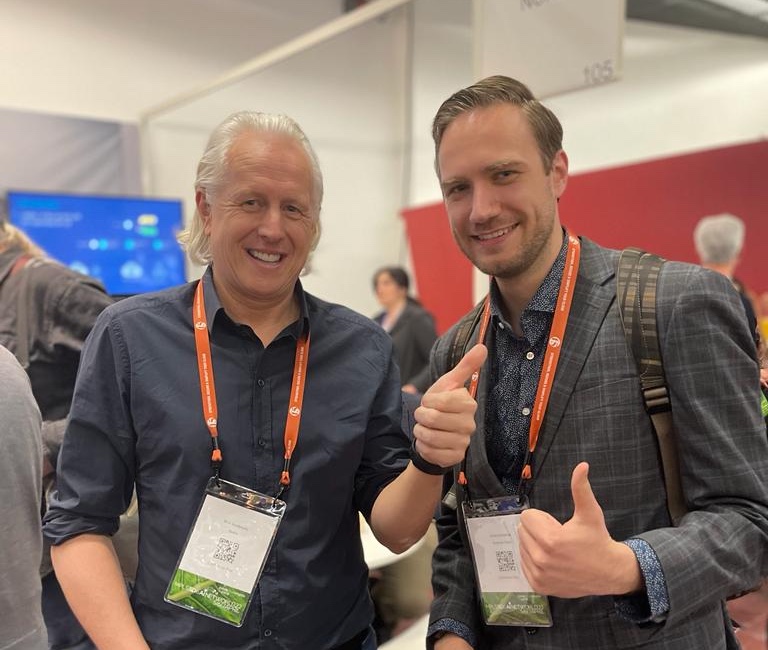 I also had an opportunity to have a demo from the co-creator and maintainer of containerlab, Roman Dodin. That helped understand the main motivation why the tool was created as well as what are the main area of its operation. As a bonus, he shared his opinion on the Python and/or Go discussion happening in the Networking industry.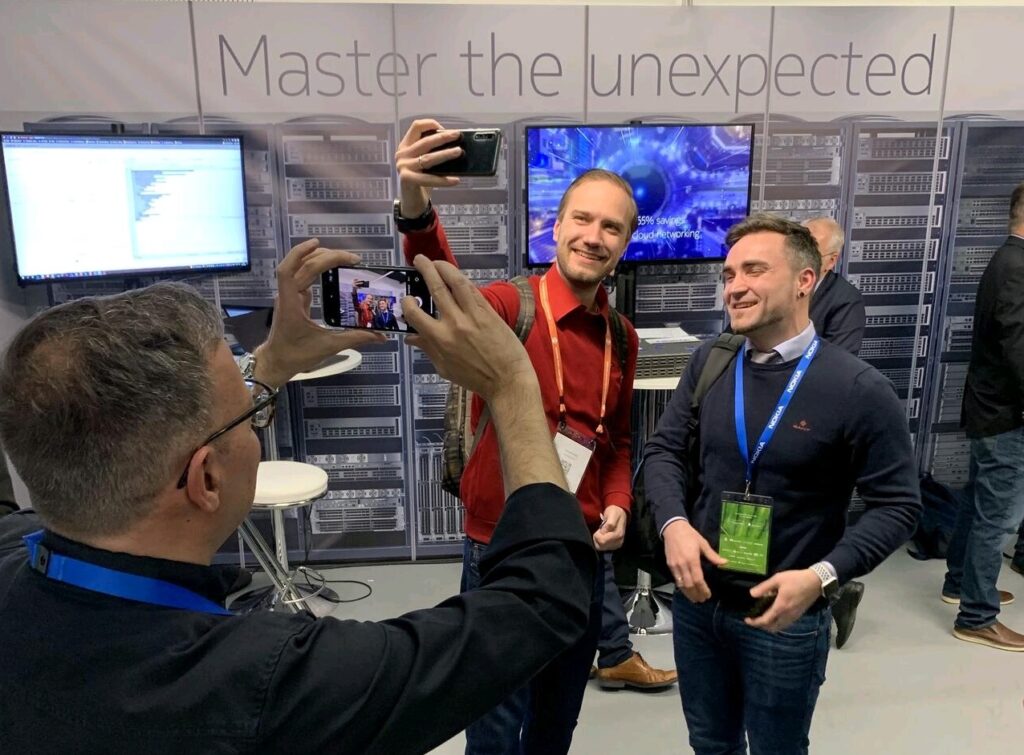 What I unfortunately missed is an opportunity to meet Jeff Tantsura, one of the greatest persons in the networking industry theses days and a technical reviewer of my book Network Programmability and Automation Fundamentals published by Cisco Press, who had a talk and generally presented in person at this meeting. Now I had to wait for a next event to meet you, Jeff.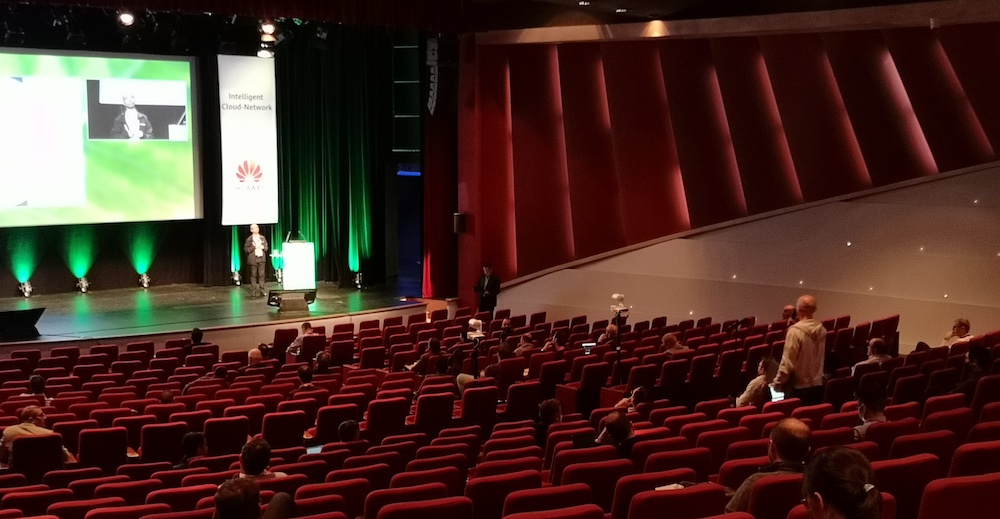 Surprises
What surprised me a lot is almost full absence of Cisco. Being one of the key vendors in the telecom spaces for ages, they didn't any booth and their participation in EANTC interoperability tests were limited to NSO only. Likewise, there were just a few speakers from Cisco besides Clarence.
Key Takeaways
First of all, it was good to see a development in adaptation of SRv6 and network automation worldwide. Working in the network automation industry, we are just happy that work we are doing and knowledge we share are much needed in the industry.
Secondly, we've identified several new topics, which we would like to investigate, write, and, perhaps, create some new trainings. Which generally re-enforced a message we convey to our students: continue learning. This is a single option how to continue being relevant in the profession.
Summary
MPLS SD AI World Congress was an exceptional event. It was like a fresh air after two years of isolation and the world slowly becomes to be well-connected again. The good mood was almost everywhere, you could literally feel it, as people were happy to meet other people and have interesting technical and/or commercial discussions. If you ever have an opportunity to attend this event, I definitely recommend you to do that. Take care and good bye!
BR,
Anton Karneliuk